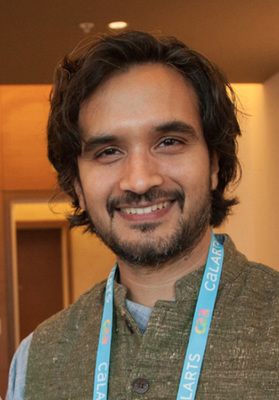 Murad Khan Mumtaz is a Pakistani-American scholar who examines historical intersections of art, literature and religious expression in South Asia. His primary research focuses on devotional portraiture with a special interest in representations of Muslim saints in early modern India. He is also an artist trained in the traditional practices of North Indian painting, which he exhibits, researches and teaches internationally.

A native of Lahore, Mumtaz was educated at Pakistan's National College of Arts, where he first studied Indian painting under the guidance of Ustad Bashir Ahmed. He later completed an MFA in visual art as a Fulbright Scholar at Columbia University. He is currently a doctoral candidate in the Department of Art and Architectural History at the University of Virginia and is working toward the completion of his dissertation, "Objects of Devotion: Representations of Muslim Saints in Early Modern South Asian Painting," which he expects to defend in April 2018.

Mumtaz has been awarded fellowships from the American Institute of Indian Studies, the American Institute of Pakistan Studies and the CLIR-Mellon Program for dissertation research in original sources. As a Theodore Rousseau Fellow of the Metropolitan Museum of Art he has carried out research in European museums and libraries. He was recently appointed an art history research fellow of the Freer-Sackler Galleries at the Smithsonian Institution in Washington, DC.

A prolific educator, Mumtaz has taught the history and practice of Indian painting at universities, art schools, museums and private institutions in the US, Pakistan and Jordan. For the past two years he has been developing interdisciplinary university coursework focusing on the art and culture of Islam in South Asia.

He has also written extensively on the genre of contemporary miniature painting from Pakistan and its historical origins. His own artwork has been presented in solo and group exhibitions in art galleries and museums throughout the US, Pakistan and Europe.